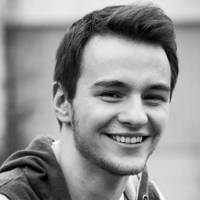 Jannis Born
Visitor Research Intern
Main research area: Vision
---
Bio
---
Jannis is a German junior scientist enthusiastic about the mechanisms underlying human intelligence. He decided early to dedicate his life to the brain and now conducts research assistance at Oxford University as part of his undergraduate BSc Cognitive Science studies.
Following his passion for Artificial Intelligence and Machine Learning he was involved in development of multimodal emotion analysis algorithms at the Advanced Digital Science Center, Singapore. His remaining time he loves to spend with travelling and biking.
research summary
---
Interaction with our environment (i.e. manipulating objects by executing motor actions) is one of the most natural things for humans but still a challenging problem in robotics. Neuroscientific studies suggest, that multisensory information (visual, tactile, proprioceptive) is integrated on the dorsal pathway between visual and (pre)motor areas. Precisely, area 5d of the posterior parietal cortex (PPC) consists of neurons representing locations of objects in a variety of coordinate systems. As the accuracy in hand movements is an unique feature of humans, I am especially interested in the development of a hand-centred reference frame.
Thus, we use biologically inspired, unsupervised artificial neural networks to rebuilt the response properties found in neurophysiological recordings to gain a higher theoretical understanding of the learning principles in the brain which are potentially of importance to develop humanoid robots that not only imitate humans in behavior but also use the same learning mechanisms as we do.
Trying to find other members of Our Team?